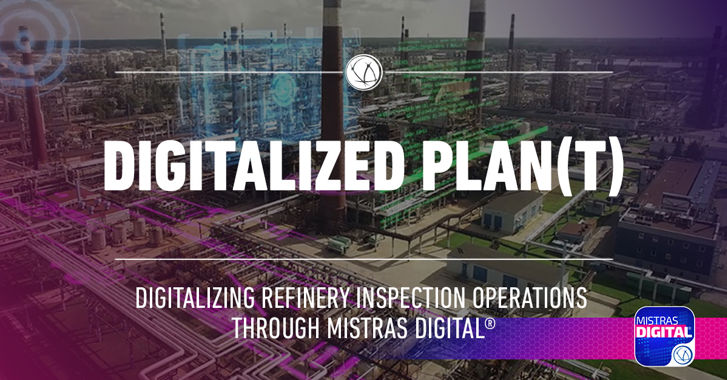 As the digital transformation era sweeps across the industrial sector, companies are upgrading their processes to maximize profits. Referred to as Industry 4.0 or the Fourth Industrial Revolution, technologies such as cloud computing, the Industrial Internet of Things (IIoT), and system integration are being incorporated into industrial plants to facilitate cost-efficient operations. Oil refineries are also embarking on the digital transformation journey, connecting assets and automating equipment monitoring to reduce unplanned downtime. 
Digitalizing Refinery Operations
Refineries churn out massive amounts of data 24/7 that must be compiled and analyzed to optimize production and keep personnel safe. Additionally, refineries cannot afford any unplanned downtime from sudden equipment failures. It is imperative that equipment maintenance, repair, and inspection record-keeping systems are kept up-to-date and easily accessible. The only way to accomplish this is through the digital conversion of these systems. 
Many oil and gas companies had already begun deploying digital technologies before COVID-19 negatively affected the industry. However, rather than halting spending on technology upgrades, the incentives of increased revenues and productivity drove them to continue the projects.
Digitalization Technologies
A successful transition to digital operations for refineries incorporates the following technologies:
Digitalized Field Execution Software and Tools
The MISTRAS Digital® Digitalized Field Execution solution integrates with inspection database management systems (IDMS) and commercial maintenance management systems (CMMS) for a fully connected centralized database without the need for manual inspection data entry. Immediate notification and real-time access to all completed activities and the ability to identify bottlenecks reduces delays in the inspection process. 
Cloud computing
The cloud enables refineries to store and process large amounts of data for access anytime, anywhere, with any mobile device. 
Analytics
Data analytics is essential for monitoring equipment performance before unexpected, catastrophic breakdowns occur. 
Connectivity with IIoT
IIoT sensors on equipment with network connectivity monitor performance on a real-time basis. 
Combining the above technologies brings the following benefits to refineries: 
Real-time monitoring of assets and processes in place of manual inspections.
Improved safety and security of assets with IIoT sensors that transmit warnings at the first signs of problems. 
Organized, secure, real-time data that is accessible to authorized parties for reporting and informed decision-making. 
Instant communication for involved parties to report equipment maintenance and inspection issues. 
Eliminating Inspection Delays Through Digitalization
The manual, inefficient paper-based inspection process is often prone to errors and reporting inaccuracies. Taking the next step with MISTRAS Digital streamlines refinery operations, resulting in greater visibility of work processes, improved quality and safety, and maximized compliance. Specifically, the platform brings the following benefits to refineries:
Planning and scheduling activities can be done proactively at periodic time intervals instead of daily.
Elimination of paper-based dispatching of field personnel can be done electronically with real-time tracking.
Photos, drawings, permits, job safety analysis/job hazard analysis (JSAs/JHAs) that were paper-based become part of a readily-accessible electronic record. Mobile devices can photograph equipment and upload photos to the centralized platform. 
All reports, quality reviews, and IDMS data as well as project tracking and KPIs are electronically entered and immediately accessible by personnel on any device.
Easily accessible through the client app or web by cellular, Wi-Fi, and offline for greater flexibility in all work environments.
Deploying MISTRAS Digital reduces costly inspection delays. The innovative platform gives personnel real-time information on all assets to keep the refinery running at its peak safely and efficiently. Harnessing the power of cloud computing, energy analytics, and IoT sensors, the application modernizes the inspection process from scheduling to sign-off. 
MISTRAS Digital Resolves Pre- and Post-Inspection Scheduling Issues
An issue that often arises during the course of scheduling is the need for third-party contractors for pre- and post-inspection support. Tasks such as scaffolding and insulation removal for access to equipment must be completed before an inspector arrives. However, in a paper-based reporting system, creating work packages for the contractors that include the equipment's documentation often results in scheduling delays.
Other common obstacles that delay pre-inspection work include adverse weather conditions, delays in permitting, completion of a JSA or JHA, and obtaining any required permits for confined space entry. Manual paper-based reporting of these situations further adds to the scheduling bottleneck.
MISTRAS Digital integrates inspection, maintenance, and reliability teams into one centralized platform to share real-time information. Data is automatically extracted from the IDMS and used to track conditions and the status of pre-inspection work for efficient planning and scheduling. Third-party contractors can then be scheduled accordingly in the system to complete the required work.
Upon completion of the pre-inspection work, the system is updated to reflect that the equipment is ready for inspection. Any necessary post-inspection work is scheduled on a timely basis through the platform. 
Real-time Data and Instant Communications
Since it is cloud-based, the MISTRAS Digital reporting platform is easily accessible via mobile devices anytime, anywhere. The following personnel benefit from the platform as follows:
The software generates Key Performance Indicators (KPIs) for Plant Managers who use analytics to help decision-making that can lead to plant improvements. 
Maintenance, Reliability, and Inspection Managers who must ensure equipment is working efficiently will benefit from MISTRAS Digital real-time reporting functions. They can review real-time reports of inspection findings without waiting on paperwork from the inspectors. This enables them to assign tasks immediately, initiate fieldwork, and review results. 
Inspection personnel transmit their reports from the field directly into the IDMS, eliminating redundant data entry of inspection data. Any delays or anomalies are received as notifications to involved parties. 
Conclusion
As refineries face increased competition and regulatory pressures, there is a sense of urgency to transition to digitally-based operations. MISTRAS Digital optimizes the data reporting and management process by eliminating paper-based inspection records that cause costly maintenance delays. Download this infographic for more information on how digitalizing your refinery operations results in greater time and cost efficiencies.