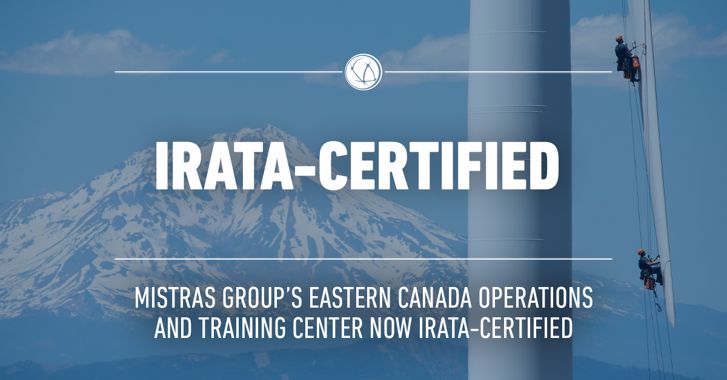 PRINCETON JUNCTION, N.J. – FEBRUARY, 2023 – MISTRAS Group, Inc. (NYSE: MG), a leading "one source" global provider of technology-enabled asset protection solutions, announced that the company's Canadian operation, MISTRAS Services, Inc., and its training facility in Quebec, Canada have received Industrial Rope Access Trade Association (IRATA) certification.
The IRATA certification makes MISTRAS the only IRATA-certified training facility in Quebec, where the company offers Rope Access, PDQ Wind Turbine & Tower Rescue, Confined Space Entry & Monitoring, Working-at-Height Fall Protection, and custom training. The certification augments the company's other IRATA certifications for Western Canada operations, along with two MISTRAS Group member companies in Canada, RAC Group and Titan NDE (a BluForce Integrity Solutions Company), and the company's operations in the United Kingdom and in France.
IRATA is a leading global trade association for the industrial rope access work-at-height sector and is the most recognized professional international authority in industrial rope access. Known for its safety-first methods, IRATA is consistently at the forefront of developing and diversifying rope access as an at-height work solution. IRATA directs and regulates, through its members, the training of all workers seeking its qualifications and currently has more than 600 member companies worldwide.
For more information on MISTRAS' rope access solutions and training in Eastern Canada, click here.
About MISTRAS Group, Inc. – One Source for Asset Protection Solutions®
MISTRAS Group, Inc. (NYSE: MG) is a leading "one source" multinational provider of integrated technology-enabled asset protection solutions, helping to maximize the safety and operational uptime for civilization's most critical industrial and civil assets.
Backed by an innovative, data-driven asset protection portfolio, proprietary technologies, and decades-long legacy of industry leadership, MISTRAS leads clients in the oil and gas, aerospace and defense, renewable and nonrenewable power, civil infrastructure, and manufacturing industries towards achieving and maintaining operational excellence. By supporting these organizations that help fuel our vehicles and power our society; inspecting components that are trusted for commercial, defense, and space craft; and building real-time monitoring equipment to enable safe travel across bridges, MISTRAS helps the world at large.
MISTRAS enhances value for its clients by integrating asset protection throughout supply chains and centralizing integrity data through a suite of Industrial IoT-connected digital software and monitoring solutions. The company's core capabilities also include non-destructive testing field and in-line inspections enhanced by advanced robotics, laboratory quality control and assurance testing, sensing technologies and NDT equipment, asset and mechanical integrity engineering services, and light mechanical maintenance and access services.
For more information about how MISTRAS helps protect civilization's critical infrastructure, visit https://www.mistrasgroup.com/.