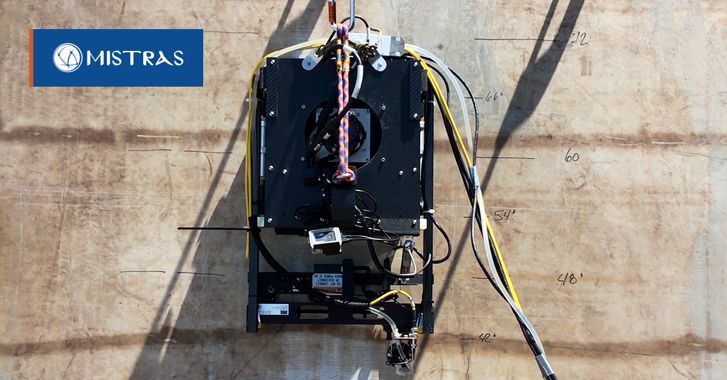 For operators who manage refineries and other facilities that house large assets, inspecting these structures can be a major challenge for a multitude of reasons. The size of storage tanks, pipelines, ship hulls, pressure vessels, and other assets makes traditional inspection methods a hurdle. Not only are these inspections difficult to pull off due to the time and energy required, but they are often costly.
Non-metal horizontal piping has always been simpler to inspect and scan since it's easy to wrap around. Vessels, towers, and higher assets that aren't easily accessible require further assistance when it comes to large structure inspection (LSI). Before now, non-ferromagnetic structures required special tracks that were ferromagnetic to aid in the scanning process.
MISTRAS Group has developed a proprietary LSI scanning system for large, non-ferromagnetic structures that have long been difficult to inspect. Our services help conduct corrosion and erosion detection and wall thickness mapping for large assets.
Non-magnetic materials are now being targeted for our robotic scanning services with the use of a unique air chamber that allows the system to "attach" to surfaces. Our scanner creates a seal that is formed between the robotic scanner to the structure, using suction to keep the technology adhered to towers, vessels, and other structures. This allows ultrasonic testing (UT) capabilities to be applied to non-ferromagnetic structures just as they would be for magnetic assets.
Our scanning services can make vertical scans of data to reveal asset condition in a much quicker and cost-effective way than ever before. For example, stainless materials wouldn't be able to be scanned with robotic UT services due to their material. Now, they can be inspected to obtain accurate and reliable data.
Expertly-designed software is utilized to collect data and send it back to operators for a full view of defects. Beyond high-speed scanning capability, MISTRAS' LSI services offer file export for analysis, transportable data for field or plant use, and other benefits.
In case you missed it, click here to watch a video of the non-ferromagnetic LSI services in action.
Click here to learn more about our LSI scanning services.